---
Back Issues of the Wailers News
September 1998
---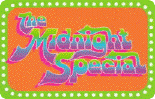 What do Bob Marley & The Wailers, Kenny Rogers, Andy Gibb, and Debbie Boone, all have in common? Not simply the fact that their all musicians, but they also all appeared on an October 1977 edition of "The Midnight Special", which is currently being rebroadcast on the cable music channel VH1, at select times.
"The Midnight Special" was a late night variety show featuring the entertainment worlds' biggest names, such as Sly & The Family Stone, George Carlin, Ray Charles, Marvin Gaye, James Brown, and countless other talents. The series aired from 1972 until 1981.
Bob Marley & The Wailers were scheduled to perform live on stage at the October 1977 "Midnight Special" show, but because of Bob's foot injury due to a soccer mishap, the band didn't perform live. Instead, the show had to use Island Records' footage from the Bob Marley & The Wailers "Live" video, recorded at the Rainbow Theatre in London in June of 1977. Kenny Rogers introduced the pre-recorded footage, showing "Jammin'" and "Get Up, Stand Up".
The show also featured performances by Kenny Rogers, Debbie Boone's "You Light Up My Life", and Andy Gibb. VH1 should re-air this particular episode of "The Midnight Special" in the very near future, so keep an eye peeled for it.


---
"Reggae Inspiration"
-
Be on the lookout for a new collection of reggae poetry, entitled "Wheel and Come Again: An Anthology Of Reggae Poetry", selected and introduced by Kwame Dawes. The book hit the stands in July of 1998, so it should be available pretty much everywhere. As the press release states, "This is an anthology to delight both lovers of reggae and lovers of poetry."

The book features poets such as Linton Kwesi Johnson, Afua Cooper, and many others, writing poems with such topics as tributes to Bunny Wailer, Bob Marley, Lee "Scratch" Perry, Big Youth, Burning Spear, and many other reggae musicians. Other topics include politics, art, history, and culture.

This tremendous anthology, published by Peepal Tree Press, features over 216 pages and combines contributors from the USA, Canada, England, Africa, as well as the Caribbean, who have all been inspired to create poems based on reggae music.

If you want to order directly from the publishing company, you can e-mail them at: hannah@peepal.demon.co.uk for more ordering information.

Special thanks to Matthew Smith for this great story!


---
"WailersNet"
- This is a brand new section for The Wailers News page, where we'll let everyone know each month about news regarding the Wailers on the internet.
First up is a brand new section on the massive Jammin' Reggae Archives web site. The very cool webmaster Mike Pawka has set up a new section on his site, entitled "writers", where he features articles written by the "most distinguished authors covering the reggae scene". His first author is reggae-ologist Lee O'Neill, who has written for countless big name newspapers and magazines. Of special interest of Lee's articles on the site, is an excellent Bob Marley article/interview that he conducted in September of 1980 in Boston. Don't miss it!

A lot of people have been asking us about the whereabouts of former Bob Marley & The Wailers' guitarist & songwriter, Junior Marvin. Junior left the Wailers Band in the spring of 1997, to persue a solo career in, of all places: Goiania, Brazil. There he formed a group called Junior Marvin and Batuka, and they are currently working on their first album together. The status of Junior Marvin came to us from Leo Vidigal who's Brazilian based magazine "Massive Reggae" has also recently found a home on the internet. Junior Marvin was featured on issue #7 of "Massive Reggae" (see picture at the left). Be sure to visit the online version of their magazine!
For everyone who has been looking for more information about the new Bob Marley & The Wailers live concert bootlegs flying out of Japan, should check out a website entitled Bob Marley & The Wailers Collection. The site features info, tracklists, and the front cover of each of the nine recently released discs. The site also has a great Shockwave animation that's worth the download time. One downside to the site though, is that the majority of it is in Japanese, and if you don't speak it, your out of luck. And be warned, as with any Bob Marley & The Wailers bootleg, including these, the show dates are inaccurate and often don't feature the entire show.


---
"Standing Ovation...Revisited"
-
In the newest issue of The Beat magazine, Roger Steffens sheds some more light on Bunny Wailer's soon-to-be released 50-track double album, "Standing Ovation". If you remember from our July 1998 issue, we mentioned some of the brand new tracks that were going to be included, such as "Stand In Love", "Don't Blame Rasta", "Genetic Order", "Reggae Converts", "Veterans", "Reggae Rebel" and Teenie Wappaz". The set will also feature Bunny's early Coxsone singles, Solomonic singles, and the greatest hits from Bunny's regular albums.

In Roger's article, he says that the set will also include a "fabulous remake" of "Hallelujah Time", which originally appeared on the Wailers classic album, "Burnin'". Roger said for fans to look for a fall 1998 release. It will definitely be an incredible piece of work, and certainly not to be missed!



---
"Alpha Blondy With The I-Threes"
-
On the newest Alpha Blondy album, "Yitzhak Rabin", the I-Threes (actually only two of them) make a guest appearance on a few of the songs. Both Rita Marley and Judy Mowatt are featured on the tracks "New Dawn", "Yitzhak Rabin", and "Les Larmes De Therese". The album was partially recorded at Marley Music studio and also at Tuff Gong in Kingston, Jamaica. The album is out now on the Tuff Gong International/Lightyear record label.

This isn't the first time that Alpha Blondy has worked with members of Bob Marley & The Wailers, because for his "Jerusalem" album, Alpha recorded with the Wailers Band at the Tuff Gong studios. Alpha, whose vocal style is very reminiscent of Bob Marley's, considers Marley as one of his biggest musical inspirations.

If you can't track down "Yitzhak Rabin" in your local music store, you can order it online, by clicking HERE! or the picture at the right.


---
"Lauryn Hill Is Burnin'"
-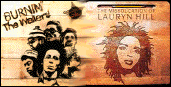 If you take a look at the newest album from Fugees' female vocalist Lauryn Hill, entitled "The Miseducation Of Lauryn Hill", you might see a striking resemblance to the cover of The Wailers' "Burnin'" album. Both covers feature a burned-in portrait of the artists, on a wood background (see picture at left!). The relationship doesn't end there however, because not only was Bob Marley an influence on Hill, but he is a grandfather to Hill's newly born son, Zion.

Hill's first solo album is out on the Sony Records label, and also features former Bob Marley & The Wailers' guitarist and founder of the legendary Soul Syndicate, Earl "Chinna" Smith. The album also features guest appearances by guitar virtuoso Carlos Santana.


---
Tour Dates: Wailin' All Over The World
-
Bunny Wailer & The Solomonic Reggaestra & The Psalms
CANCELLED! September 5, 1998 - IRIE '98 - Westfalenpark - Dortmund, Germany (also w/Black Uhuru, Eek-A-Mouse, Pablo Moses, more!)
September 6, 1998 - One World Music Festival - Crested Butte, Colorado (w/Original P, Bernie Worrell, Robert Cray, Mutabaruka, and more!)
October 17, 1998 - The 7th Annual Peter Tosh Birthday Celebration - Maritime Hall - San Francisco, California (w/Andrew Tosh)
The Wailers Band
September 30, 1998 - The Fenix - Seattle, Washington
October 1, 1998 - Roseland Theater - Portland, Oregon
October 3, 1998 - Nugget - Reno, Nevada
October 4, 1998 - Golden Gate Theatre - San Francisco, California
October 6, 1998 - Belly Up Tavern - Solana Beach, California
October 7, 1998 - Club Caprice - Redondo Beach, California
October 8, 1998 - Ventura Theatre - Ventura, California
Ziggy Marley and the Melody Makers
September 5, 1998 - Lori Wilson Park - Cocoa Beach, Florida
September 10, 1998 - Boston College, Conte Forum - Chestnut Hill, Massachusetts
September 11, 1998 - University Of Maine - Orono, Maine
September 12, 1998 - Chase Gym SUNY University - Oneonta, New York
September 13, 1998 - Columbia University - New York, NY
September 14, 1998 - Higher Ground - Winooski, Vermont
September 16, 1998 - Piere's - Fort Wayne, Indiana
September 17, 1998 - Foellinger Auditorium - Urbana, Illinois
September 18, 1998 - Hulman Center @ Indiana University - Terre Haute, Indiana
September 19, 1998 - Outdoor Tent (private party) - Chicago, Illinois
September 20, 1998 - Quest Club - Minneapolis, Minnesota
September 22, 1998 - Michigan Theater - Ann Arbor, Michigan
September 23, 1998 - Calvin College Fine Arts Auditorium - Grand Rapids, Michigan
September 25, 1998 - U.S. Naval Academy - Annapolis, Maryland
September 26, 1998 - Regents Hall Northern Kentucky University - Highland Heights, Kentucky
November 17, 1998 - Thomas & Mack Center - Las Vegas, Nevada
Kymani Marley
September 15, 1998 - SOB's - New York City, New York
September 19, 1998 - Water Street Music Hall - Rochester, New York
Andrew Tosh
October 17, 1998 - Maritime Hall - San Francisco, California (w/Bunny Wailer)
The I-Threes
September 19, 1998 - Lupos Heartbreak Hotel - Providence, Rhode Island
CANCELLED! September 20, 1998 - Pegasus Night Club - Philadelphia, Pennsylvania
The 7th Annual Peter Tosh Birthday Celebration
October 17, 1998 - Maritime Hall - San Francisco, California (w/Bunny Wailer & Andrew Tosh)
Bob Marley Festival (Click here to see the official webpage!)
September 2-7 - To Be Announced - Bahamas
September 11-13, 1998 - Frog Island Park - Ypsilanti, Michigan
September 19 & 20, 1998 - Armstrong Park - New Orleans, Louisiana
September 26, 1998 - City Hall Plaza - Dallas, Texas
October 3 & 4, 1998 - Wolfpen Creek Amphitheater - College Station, Texas
October 11, 1998 - Fiesta Gardens - Austin, Texas
To Be Announced - Denver, Colorado
To Be Announced - Charleston, South Carolina
To Be Announced - Cahoon Park - Roswell, New Mexico
To Be Announced - San Francisco, California
To Be Announced - Boulder, Colorado
To Be Announced - Chicago, Illinois
To Be Announced - Flint, Michigan
To Be Announced - Canadian Tour Dates
March 13 & 14, 1999 - Houston, Texas
April 10 & 11, 1999 - San Antonio, Texas
April 24 & 25, 1999 - Tucson, Arizona
May 1 & 2, 1999 - Las Cruces, New Mexico
May 15 & 16, 1999 - Ft. Worth, Texas
---
"Got The News From A Whispering Tree"
- Have you joined The Wailers Reporter yet? If not, you've already missed 14 e-mailings, packed full with reggae news, new reggae web pages, tour dates, and much more! But it's never too late to join, so fill in your name and e-mail address below to become one of an irie list of people! It's 100% free, and we won't give/sell/trade your name to anyone else!

Enter the information below:

Have you missed previous issues of the Wailers News? Don't worry, just click HERE! to visit our back issues page.